Most Popular Haircuts for Women

Hair is a statement. In the last few decades they have changed as much as they have ever done. From a very short pixie to a flowing mane, women now wear every cut and thus show their self-confidence.
Which haircuts are most popular for women and which fit best to your face, you will find out here.
Most popular long haircuts for women
Long hair is very versatile. You can make the most beautiful haircuts and they are very feminine. Whether straight cut or stepped, with bangs or curls, long hair is a real eye-catcher. The current trend goes to naturalness with gentle waves and undone look, but also geometric styling are always a highlight.
Most popular medium long haircuts for women
Bob: Bob has been a favorite and popular haircut for women since the 20s. The bob is extremely short, if only up to the ears, in a longer variant, he can almost touch the shoulders.
Classically, it is straight cut, so the front and back the same length. In an asymmetric version, you can also make the game around the face longer and shorter at the back. At the back of the head then the hair is graded.
The mid-length Bob: This bob is much longer than the length of the ear, but ends over the shoulders without touching them. This haircut is also popular with women.
Long Bob (Lob):
The Long Bob or Lob is the longer version of the Bob. He goes to the shoulders, but not over it. The asymmetrical variant looks particularly good here. Even the praise can be super with light waves wear - so creates a romantic look.
Shaggy: The shag is a bob that does not need much styling. It's about getting a natural, "out of bed look", like shagging your hair after getting up. Typical for the cut: The hair is about shoulder length or a little shorter. A fringed bang is worn in the middle parting and the hair is slightly wavy. But also with curls the look works.
Most popular short haircuts for women
PageBoy
This haircut, as the name suggests, intended for the pages, servants of the knights, who were mostly very young.
The cut runs straight around the head, about at ear level. The neck is shaved off.
Typically, this is slightly wavy hair, but now you can wear the look in all possible variants. Straight and smooth, he makes the face striking and emphasizes the facial features.
Already in the 20s, PageBoy was a popular haircut for women and remains relevant today.
Pixie
The Pixie cut has been one of the most popular short haircuts for women for decades.
In the 50s, he was mainly known by the actress Jean Seberg and stars like Twiggy or Goldie Hawn soon found favor with the cheeky short haircut.
The Pixie is styled very differently, very smooth and short or with slightly longer strands on the forehead, or with curls.
Often, the hair in front of the ears stay a bit longer and are shaped to resemble sideburns.
The hair tips can be even and voluminous or stressed with hair gel or wax. Especially delicate faces are emphasized by the same elf. And for fine hair, the Pixie is the ideal haircut for women.
Most popular haircuts with bang for women
Bangs have always been popular as an element of women's haircuts and now you can see it very often. Bangs can be straight or sideways, fringed or clearly defined, it can make the face edgy or softer, depending on the cut and face shape.
Which bang fits your face shape, you can find out here:
Heart-shaped face:
If you have a heart-shaped face, a tiered bang is best for you. It visually narrows your forehead and framed your face. A very short bang is not suitable, he makes his forehead appear wider.
Square face:
If you have а rather angular face you should not wear a straight bang cut, which makes your face look even more angular. Here, too, a side bang harmonizes with fringe and swing, which makes your face softer, the best!
Oval face:
With an oval face, you can actually wear any bang. You are every cut well, the only question is which one you like the most.
Round face:
Round faces should be stretched by a bang if possible. That's why we recommend a long, full bang, also with steps. Short ponies can additionally compress the face, and your forehead should not be completely hidden by hair, otherwise your face will look compressed.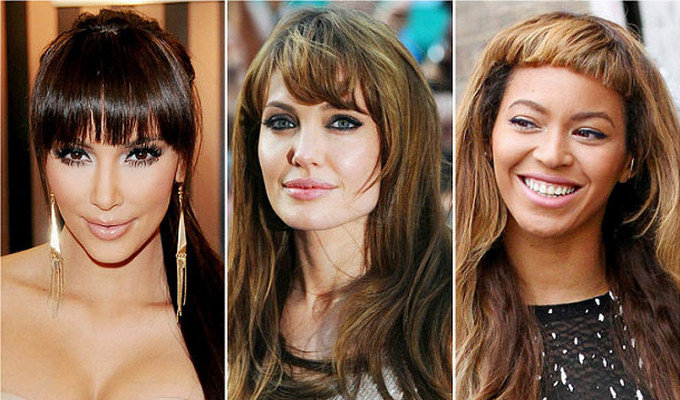 Undercut - most popular sidecut haircuts for women
During the haircut, the hair is shaved off the back of the head or even the sides, leaving the top hair long.
In a sidecut, only the hair on one side of the head is shaved off.
Initially such hairstyles were worn only by men.
But today these haircuts are very popular among women and they are also increasingly wearing this cool statement hairstyles.
That can look pretty cool, but you have to be aware that it takes time, especially with long hair, until the shaved areas are again pretty long - growing out an undercut is usually not very nice.
Most popular haircuts layered cut for women
A step cut is the secret weapon for momentum and dynamics in the hair. You can simply spice up boring hairstyles with steps, your hair will fall much easier and get a whole new volume. Steps can be easily indicated or differ by several centimeters. Thick hair is visually thinned by steps and made easier.
For thin hair, a step cut is not necessarily recommended, it can make the hair look even thinner. To light waves or curls, the step cut is almost a must and conjures you a casual summer haircut.
In any case, you have to take good care of his tips in a step cut, because they are not, as with the same length of hair, protected from the other hair layers.